(This post contains affiliate links, for more information read this privacy policy)
Some of the less enjoyable parts of traveling in my opinion is to sort out everything that has to be taken care of before I can finally arrive at my destination. So I put together a list of 15 Things to take care of before an international trip that I think are important. Enjoy.
1. Visa Arrangements
Of course, depending on your passport and nationality it will differ for which countries you will need a Visa to. Make sure to check the Visa arrangements before you book flights, as sometimes getting a Visa requires a visit to the embassy which could take a bit longer.
This is especially the case when you are not only traveling to a country for vacation but instead need to apply for a student or work and travel visa beforehand.
2. Passport Expiration Date
Most countries require that your passport is at least valid for another 6 months at arrival. However, don't cut it too close, you might want to change-up your travel plans and include another country in your trip or stopover somewhere on the way home.
Therefore make sure you include uncertainties like that in your travel plan and rather renew your passport sooner or later.
3. First Accommodation
Sometimes you will be asked to provide the address that you will staying at when going through immigration at the airport. I assume you can just write down a random address as well, but also if you just arrive at a new country, you probably want to at least have your first accommodation figured out, so you can recover from jet lag.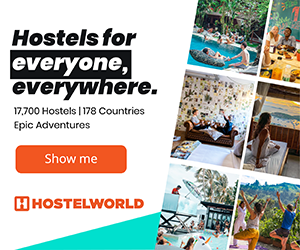 4. Proof of Onward Travel
You should always check beforehand, which countries require proof of onward travel before entering. Proof of onward travel means that you can provide any kind of bus/train/plane ticket that shows that you are leaving the country again before your visa expires.
In general, it can never hurt to have some kind of proof of onward travel before any international trip. In some cases, if you can not provide proof of onward travel, you might not even be able to board a plane before buying another exit plane ticket.
When I went from Nicaragua to Costa Rica, they were really strict on onward travel. What was weird was that when I went to Costa Rica from Panama they didn't care at all. Anyway, you can never be sure in advance.
5. Information about Entry/Exit Fees
Some countries such as Panama, require you to pay an entry and/or exit fee when you enter by land. For other countries this might also apply for flights. This is just something that everybody has to do and is usually only a couple of dollars.
Just make sure to check the amount and if it is necessary in advance. For once so you know that you are not getting ripped off and secondly s you can check what currency you will need and to make sure to have that on hand. In general, it is always useful to have some spare American Dollars with you as they are widely accepted in a lot of countries.
6. Travel Insurance
This probably goes without saying but you should always buy travel insurance because you never know what is going to happen. I know getting travel insurance is always the most annoying part before a trip but it is definitely necessary.
My Tip: For the Germans out there, I always get Hanse Merkur travel insurance and so far I haven't had any problems with it.
7. Emergency Numbers
It is always useful to write down a couple of emergency numbers of the country that you are traveling to. For example the police number, in case of an emergency. But also what I think is really important to have are the numbers of your bank and credit card companies, so in case your bank card gets stolen you will be able to get them blocked and reported as soon as possible.
8. Vaccinations
Just because you have all the necessary shots that are required in your own country, does not mean that the same requirements are met at different places around the world. Especially, in countries with high risks of certain illnesses they might require specific vaccination beforehand so that you will be able to even enter the country.
Also some, might just be additionally in order for your own protection.
9. Back-up Bank Card
There is nothing worse than when your bank card gets blocked or stolen and you are stranded without any money or access to money. In case that happens, you should always have a second bank card with you that you can use in case of an emergency.
Also, try to keep them at different places so they won't get stolen at the same time. For example leave one in the locker at the hostel and the other one you can keep on you.
My bank card has gotten blocked twice so far while traveling. Once because I bought a GoPro in Australia and Visa assumed it was stolen and then once in South Korea because apparently the ATM was suspicious or something like that. Thankfully, I had a backup card in both cases.
10. Copies of Travel Documents
Most countries require you to always have a valid identification on you, mostly your passport that also includes entry and/or exit stamps. If you don't feel like carrying your passport around all the time, make sure you have a couple of copies that you can carry around with you.
This is also useful in case your passport gets lost or stolen.
11. Online Back-Ups
Apart from photo copies, you should also always have digital back-ups of not only your passport but also of all important documents. That includes flight tickets, vaccination documents, visas, etc.
A good idea is always to have a USB stick with you and even if you do not travel with a laptop I'm sure you can always find a place where you can access your documents. Additionally, send it to your email address and maybe to your friends and family. In this case, they will have your most important documents on hand in case of an emergency.
12. International Driving license
If you are planning on renting a car/scooter abroad, make sure to check if your driver's license is accepted. Even if it is, it is always recommend to additionally invest in an international driving license. These are usually valid around three years (at least in Germany), easy to get and not really expensive as well.
13. Laws, Regulation and Dress Code
Also, before departure make sure to check if there are certain regulations that you should follow. For example, in some cultures you always have to take off your shoes before entering a house, which is not a big deal but something you should definitely know about to not accidentally disrespect the locals.
Or if you are planning on visiting temples or mosques make sure to pack clothes that are appropriate.
14. Common Phrases in the Language Abroad
It can also never hurt to know some common phrases in the local language, at least something like "hello" and "thank you". However, if you are going to a country where English is not widely spoken, for example anywhere in South America, make sure to know a little bit more of the spoken language to make your way around (Spanish or Portuguese in this case).
You can also bring a small travel dictionary, which usually includes the most common phrases.
15. Safety Regulations
Last but not least on my list of things to take care of before an international trip and definitely something you should even check before booking flights, accommodation or anything else, are safety regulations.
Make sure to check the information of your government regarding travel destinations to see how safe it is to travel there. But I do believe they can be a bit dramatic at times. Also, start reading other people's posts on how safe they believe a country is. Just get an idea of the common scams and places to avoid beforehand. Personally, I think you can get the best advice from people who have previously travelled to that country.
And also make sure to check out these 15 Tips for staying safe while traveling in general.
These were all the things to take care of before an international trip. I hope this was helpful to some extent.
If you have any questions or comments, don't hesitate to leave comments on this post!
Talk to you soon & safe travels x
pin this post for later